Contract
"We care" is a value to be exported.
From the design phase to the in-house application of doors, profiles, tables and furniture solutions: our Contract service helps to promote Italian living space brands worldwide. One of our top exports is Plan.a, the latest generation of anodized aluminium doors, which has reached the U.S.A. and many other countries, taking our style overseas. Not imposing boundaries is the best way to turn words into action, everywhere. We care.
Plan.a door
Lighter weight, greater efficiency.
Scilm offers a wide variety of aluminium profiles for custom-made doors. These include Plan.a, a lightweight, versatile and functional door. Plan.a is about 40% lighter than a melamine-faced door. Customisable with glass, stone or wood, it is also waterproof and non-deformable.
› Streamlined aluminium structure
› Shockproof junctions that eliminate sharp edges
› No change to the adjustment of hinges and alignments
Go to page
Profile 20x20
New modular aluminium structure.
It can house panels up to 19 mm thick and 4 mm and 6 mm thick glass panels. Easily machinable in lengths, it can be supplied as a kit. For use with wall cabinets and free-standing cabinets. Supplied with profiles for side and rear closures, and for sliding closures.
View the product
Tables
Six levels of satisfaction
Nobody chooses a table for one reason only. Let alone a professional in the field of living spaces. At Scilm, we apply the same discerning eye to the kitchen and the ultimate cabinet. To provide architects, designers and planners with six excellent reasons.
Harmonious home.
Thanks to a formal rigour designed to blend into the contemporary living space.
Simplicity in action.
Thanks to quick and easy extension systems, the choice is also effortless.
Beauty every day.
Thanks to an aesthetic look that favours simple lines and high-quality finishes.
Reliable durability.
Thanks to high-quality components that, together, provide robust bases.
A green outlook.
Thanks to the successful combination of recyclable materials and sustainable processes.
Light evolution.
Thanks to custom-made aluminium solutions.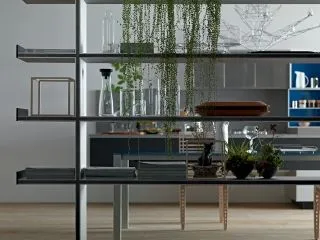 Case Study AL2698
Compliments to complements.
Complexity is a relevant concept. An interior must be perceived as an ensemble, along with the complexity of its elements. This is the challenge of the AL2698 project, for which we created aluminium complements for solutions with a striking personality and a powerful green vocation.

A journey in search of the fusion of nature and culture lies behind the creation of each line, detail and function. The challenge has been won: together we have made the complex elements simple and attractive.
Door profiles
Scilm offers a wide variety of aluminium profiles for doors, which can be custom-made for any door size.
A wide range of finishes and custom-sizings is available and profiles come with a 45° joint with a joint plate, or a 90° joint.
Go to page
Project1
All in one cut.
Just one cut is not just a detail. This is what makes the Project1 open wall system by Scilm stand out: with the exclusive "Just One Cut" technology, assembly and dismantling take place without any mechanical work or drilling, thanks to a 90° edge. It can be used in the living room, kitchen, bedroom and bathroom while always following the same concept: smart everywhere.