Find out more
Our "We care" had worked for 40 years.
Because ever since we called ourselves Scilm we have been combining aesthetic appeal with functions and bringing them into everyone's living spaces. The power of such "care" has attracted major kitchen brands in Italy and around the world, with whom we have been establishing sound partnerships for years.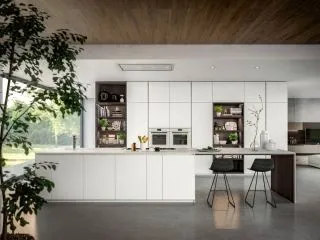 Forward-looking in our ideas,
sustainable in our choices,
innovative in our solutions.
It comes naturally to us to be ahead of the times, from the innovation of the first plastic plinth to 20-year sustainable choices such as lead-free PVC or recyclable aluminium. Since 1977, our idea of furnishings has been based on increasingly cutting-edge materials, increasingly intuitive tools for designers, as well as attractive and practical solutions for the kitchen. Today, half of our products are exported thanks to a footprint that has created a standard.
We put ourselves in the shoes of designers, fitters and users.
A 4.0 company
The future is Scilm 4.0
Change is part of us, so we enthusiastically welcome our commitment to Enterprise 4.0. This path of economic and digital transformation, through a more rational, responsible and green process, promotes productivity, respects the Nature and ensures the best possible working environment for all our skilled employees. The spark that led to innovation by Scilm.
Plastic
› Injection moulding
› Thermoforming
› Extrusion
Aluminium
› CNC machining
› Mechanical processing of coils
› Anodization
Coating
› Paper › Laminates
› Aluminium
› Wood veneers
Assembly of complements and furniture components
Tables, doors and glass fitting.
Processing of reference orders
Manual intervention reduced to a minimum
for more efficient order processing.
Packing
Automatic in-line packing.
Custom-made products
We focus on custom-made products.
Our experience, spanning 40 years, is a stable foundation on which to experiment with new ideas and new ways of making the kitchen great. This makes Scilm an ideal "customiser": from the design phase to after-sales consulting, each step is overseen down to the minutest details by highly specialised problem solvers, who deal with the various areas in the home, meeting the most specific, sophisticated and personal needs. For us, this is custom-made.