Case Study
Fermob's futuristic table features a Scilm mechanism.
About Fermob
An expression of style, reliability and research, the French brand Fermob is one of the leading international players in outdoor furniture producing 400,000 items per year.
Need
Diversify the range
Diversify the range by adding an aluminium table with special features to the solutions available. An extendable table that can accommodate a large number of people without being an encumbrance.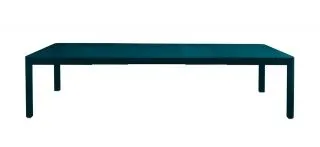 Activity
The challenge
Re-inventing the relationship between sturdiness and dimensional adaptability. We chose to create a system: a robust extension mechanism that would give the product maximum adaptability.
And the result?
Ribambelle: def. Longue suite (de personnes ou de choses en grand nombre)
A robust, sustainable aluminium garden table that can be extended from 149 to 300 cm (from 4 to 14 people), very simple and smart.
The success of the project has extended our partnership with Fermob also for the "Oléron" and "Calvi" ranges of tables.