News -
Red Dot winner 2021 | We won two Awards!
Winning in the Red Dot Design award 2021 is the best recognition we can imagine. It confirms that Scilm products meet the highest standards of innovation and quality.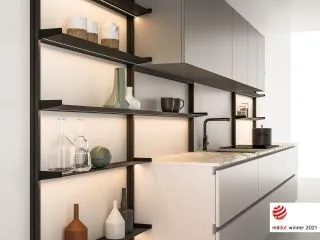 Project1, open wall system
Just one cut is not just a detail. This is what makes the Project1 open wall system by Scilm stand out: with the exclusive "Just One Cut" technology, assembly and dismantling take place without any mechanical work or drilling, thanks to a 90° edge. It can be used in the living room, kitchen, bedroom and bathroom while always following the same concept: smart everywhere.
Blink, the magnetic clip
Cleaning under kitchen cabinets will be even easier with Blink, the magnetic clip from Scilm. It allows you to remove and replace the plinth in a flash, so that you can also thoroughly clean under kitchen bases and remove dirt and germs from an area that is frequently neglected.